As a Singapore road equipment, office equipment and signage making company, we have successfully served over 300 clients, including schools and government agencies as well as commercial, industrial, and residential properties.
We provide ready-made products as well as produce custom equipment and signages in our in-house factory.
Our key product offerings include: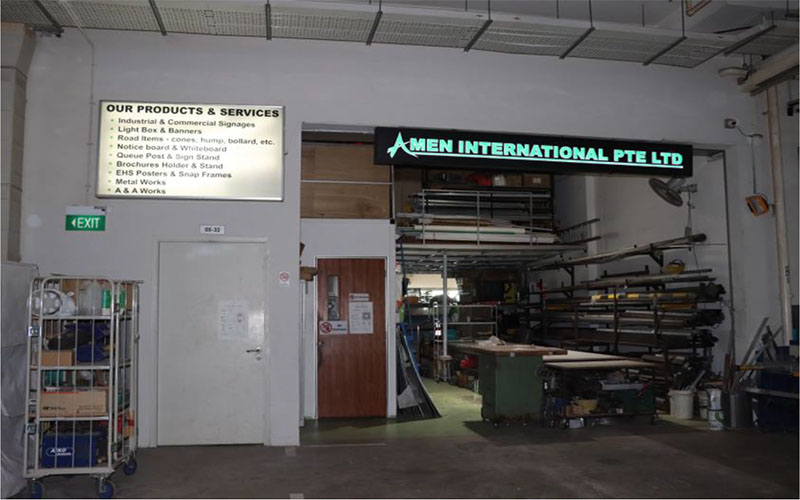 Founded in 2001 as a sole proprietorship with three people, Amen International grew over the years and was soon incorporated into a private limited company. The company now has a workforce of 19 people and operates from two factory units at Synergy@KB.
While the business began as a humble sign-making company, Amen International offerings expanded to include road equipment, office supplies and emergency equipment. As a one-stop provider for essential equipment for offices, buildings and properties, we are happy to provide convenience and value to our clients, backed by quality products and exceptional service.
Amen International has showcased top notch professionalism from the sales to delivery process, further providing after-sales support.
A definite recommendation to other organisations looking to install and supply bollards! Guaranteed not to disappoint!
A very big thank you for such good workmanship from Amen International. The finishing of their railings was flawless! I would recommend engaging them for your other needs!
Been searching for a good supplier for customised boards and office equipment. Amen International fit the bill perfectly with its outstanding service and products.
Thanks to Amen International, we were able to procure various types of Office Equipment, especially queue stands, portable sign stands and partition boards with quality at reasonable quotations. A very reliable company, willing to take in urgent orders in a short notice.